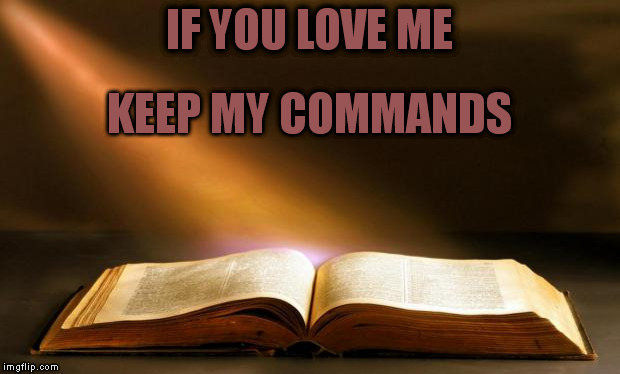 It came up again today, in the pastor's sermon. A theme of Jesus that we can't overlook. The way he lets us know how to measure our love for him. The sermon was about vision for our church, and the pastor started with the Great Commission from Matt. 28:18-20.
Jesus came to them and said:
I have been given all authority in heaven and on earth!
Go to the people of all nations and make them my disciples. Baptize them in the name of the Father, the Son, and the Holy Spirit,
and teach them to do everything I have told you. I will be with you always, even until the end of the world.
It's that phrase--"teach them to do everything I have told you".
Jesus also said, "If you love me, keep my commands" and "whoever has my commands and keeps them, is the one who loves me".
Many will say they love Jesus. They desire to emulate his compassion and do the good works that he did. They want to extend generous grace and God's love to mankind. Remembering Christ's mission to love the least of these, they passionately seek justice for those who have been wronged and try never to offend those who are different from themselves. I have much to learn from those who pour themselves into helping the alien and advocating for hurting and disadvantaged groups of people. May my actions reflect Christ's care for the people he created and loves deeply.
Yet, my heart knows there is a difference in the Jesus presented as only loving and kind with the reality of Jesus Christ in Scripture who is the perfect blend of grace and truth. If we love Jesus, then he says the proof is in the way we obey his commands and do everything he has told us. We all know this doesn't mean perfection, but when have you last measured your love for him, by how much you want (it starts with desire) to do all that he said? And how do you know you are doing it unless you know what he said? We have a record of his teaching, and we have a record of the history of the God who began his story with mankind before Jesus came to live among us. Jesus is the exact representation of his Father God, so to get a fuller picture of Jesus we can read all of Scripture to know what he and God both want us to know about how to live as his people.
I come from a wonderful legacy of faith. Did my parents do it all right? No. Were there years I struggled with the legalism that the faith message came packaged in? Yes. So what kept me committed to continue to pursue my faith and to the urgency to keep passing it on to the next generation? Why didn't I throw the baby of loving God and following Christ, out with the bath water of legalism and stingy grace? I believe it was because of seeing vulnerable, honest-to-goodness (honest need turned to goodness because of God's mercy and faithfulness to those I was watching and learning from) folks who turned to God in their failures, humbly accepted their losses and circumstances, all while believing in a powerful God who could work everything out for good. They proved him trustworthy as they counted on him to help and strengthen them always. And their mouths weren't afraid to talk about it.
I heard my parents pray out loud. They could quote scripture and taught me the importance of memorizing
God's word and how it's tucked-away presence in my heart could keep me from sinning. I have a sweet black and white photograph of my brother and me in our pajamas, sitting in Daddy's lap, listening to him read the big children's Bible story book to us. The Bible was front and center in our house. Like the height growth chart Dad created on the lintel of the basement door, we measured our spiritual progress with our backs firmly pressed against the Words that we lived and breathed.
Later I criticized the parts of my past that seemed like religiosity to me. What did I and my siblings really gain from a devotional reading at the supper table every night, where Mom often nodded off to sleep while Dad read? There had to be a better way!
I don't remember all that my husband and I did to install a similar practice into our home; it wasn't consistent and we tried different methods, but our aim was to emphasize the habit of setting aside time to get personal with God and his Word. Now, looking back, the lasting inheritance that I "caught" from what my parents taught, was their love for a real, indwelling God and their deep desire to know and please him.
Randy Alcorn's blog post last week addresses some of what I'm trying to process. He had pastored a church in the 70s for 13 years. When asked what he would do differently now as a pastor he said he would set up classes and small groups to systematically study the Bible, on a continuing basis. His reason:
"
The reason I said this is because over nearly four decades in my church (a church that has always taught and emphasized God's Word), I've seen a noticeable, even startling, reduction in the average person's grasp of biblical truth. It's possible for someone to hear Bible-based sermons while at the same time they're adopting a worldview that is less and less biblical. This happens because most church people spend very little time studying God's truth during the week. Compare the time spent reading Scripture and great books that teach biblical truth versus the amount of time spent watching television and reading social media that exemplify not only a non-Christian worldview but often an anti-Christian worldview. What chance does one 30 to 40 minute sermon a week have, no matter how biblical, when it must fight off and correct 30 to 40 hours of worldview that's contrary to Scripture and the Gospel of God's grace?"
It's tempting for me to feel safe somehow from this kind of apostasy, because I have such a firm foundation.
I know the Bible. I can recognize non-Christian world view. Those voices won't effect me.
Yet, I feel the allurement of what this present day world has to offer. I like my electronic gadgets. I like watching good material on Netflix. I like pleasing my senses whether shopping, reading or eating. As I drove down the food row strip in our town recently, my mouth watered while reading the signs and window ads that jostled for my attention; the new ice-cream flavor, yummy milkshake pictures, juicy hamburgers, and layered desserts prominently featuring chocolate! We are a people with rich choices of every kind. How do we stay centered on the call to not become distracted with this world and to stay self-disciplined?
This morning the devotional from First 5, an app from Proverbs 31 women's ministry, asked if we are making the Terrible Trade. Taken from the Jacob and Esau story in Genesis where Esau trades a mess of beans for his birthright because of an immediate need to satisfy his hunger, the question asked which we will choose.
"A short-term fix or a long-term legacy?"
It's a significant question to consider. If I choose to do this, will I lose out on some gain a better choice would have given me? Like for instance, "finding whitespace for video games and Facebook but not face-to-face conversations with real people". It's not that the lesser things chosen are sinful and wrong, and they have their place. I just want to be wise about how I make those choices and to consider what future I want to build.
I had a sweet birthday card from a long time friend this past summer. The note inside shared some of her current news and then this line:
"I'm feeling grateful for blessings of health, friendships and being in a frame of mind where I am eager to study God's Word. In a sad, suffering world, God's word is sweet."
That's it exactly! I'm not always in a frame of mind to study God's word, even with knowing it's the best and sweetest; so it's his grace and gift when I am. And the sweetness in the partaking overshadows the sadness and suffering we encounter every day, whether in our personal situation or that of others close or far away.
Keep me in that frame of mind, Father. May I become addicted to the sweetness. May it's truth and grace guide every action and thought. Happy are the people whose God is the Lord!